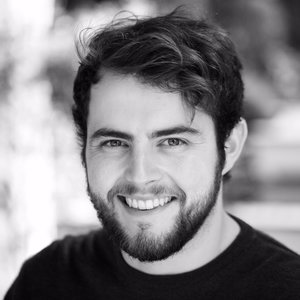 James Vincent - MONSTER
James is an Actor, Composer and Writer working in the UK and Ireland. Recently graduating from Exeter with a degree in Business Economics, he is involved in an ongoing theatre project "We Had a Black Dog", backed by mental health charity SANE, and David Hendon's "Sign of the Times". Theatre credits include Napoleon in Peter Hall's Animal Farm (Exeter Northcott); Tom in Duncan Macmillan's Monster (UK Tour) and Benny in Ella Hickson's Boys (Thornlea Studios). James was also "The Dragon" in "The Garden Dragon and The Lovely Lily" for Yellow Rose Productions.
As well as touring with improv comedy group The Exeter Revue, James is also currently longlisted for Collaborators for the Old Vic 12 and producing his own feature film.
James is also a member of the "As IF Comedy Collective".
For Proforca Theatre Company, Vincent originated the role of "Monster" (as James Bowen) in our production of "Reading Gaol" (Nov 2017), and "Nick" in "Feel" (Spring 2018) We delighted to welcome him back to the company to reprise his role at Theatre N16.
Twitter: @JVBowen1
Malcolm Jeffries - GUARDIAN
Malcolm trained at Rose Bruford College of Theatre and Performance.

Theatre includes: Alice (Landor_Space). The Audience (Kenneth More Theatre), Lovestuck (The Cockpit), James Bonney MP (White Bear), Drowning on Dry Land (New Wimbledon theatre), Baby Girl Productions (Bread & Roses), Termination (Southwark Playhouse), Macbeth (The London Theatre), The Seagull (The London Theatre), The One (Lion & Unicorn), The Social Not work (Lion & Unicorn), The Laramie Project: 10 Years later.
Film includes: 'Good Grief', 'Lovebug', 'The Girls Were Doing Nothing', 'Alan', 'The Victim', 'The Rest Cure', 'Final Command', Body Clock'.
For Proforca Theatre Company, Malcolm played the role of "Angelo" in Feel / More (March 2018). We're delighted to welcome him back for his next role with the company.
You can find Malcolm on Spotlight at .http://www.spotlight.com/4379-7838-4837

Twitter: @malcolmjeffries
Nic James - HUMAN
Nic trained in Performing Arts at the University of Salford. He most recently finished playing Chief Weasel in The Wind in the Willows at Kenneth More Theatre, Ilford. Other theatre credits include Raymond/Colin in CBeebies' Mr Bloom's Nursery (ATG Theatre Tour), Andrew Aguecheek in Twelfth Night (Off Your Chump Theatre), WeAreHere (National Theatre), Carousel: A Concert (KMT), Romeo and Juliet (Royal Ballet), La Traviata (Royal Opera), The Indian Queen (English National Opera). Panto credits include Dandini for New Pantomime Productions, Prince in both Rapunzel and Snow White for Kenneth More Theatre and Scarecrow in The Wizard of Oz for Panto in a Day.
This is Nic's first production with performance for Proforca Theatre Company and we are delighted to welcome him to the company
Twitter: @nicdavidjames
Miles Parker - Innocent
Miles trained at the Italia Conti Academy of Theatre Arts
Credits Include: The Picture of Dorian Gray (European Arts Theatre), The Drop Zone (Southwark Playhouse), Doctors (BBC), Solo (Theatre 503), Remedial Remedies (Upstairs at the Gatehouse), Lovebox (Sparkle and Dark TC), Termination (Theatre N16)
This is Miles' first time working with Proforca and we are delighted to welcome him to the cast of Reading Gaol.
Spotlight: https://www.spotlight.com/4538-4506-1789
Twitter: @MilesWParker
Nick Cope - Hero
Nick is a London based actor originating from Cheshire. He is a recent graduate from the University of Exeter having gained his degree in Drama and now works predominantly in theatre with his most recent roles playing Jack in William Golding's 'Lord of the Flies' (Greenwich Theatre), and George in 'Fishbowl' (Kings Head Theatre). Other credits include Mack, 'Boys', (Thornlea Studios), Snowball, 'Animal Farm', (Northcott Theatre), Joe Pitt, 'Angels in America', (Northcott Theatre), Donnie Black, 'Kursk', (Venue 181). Alistair Ryle, Posh, (Harry's Restaurant).
Nick is also one half of the music comedy duo 'Odd Pear'.
For Proforca Theatre Company Nick also performed the role of 'Jamie' in Feel by James Lewis (Albany Theatre and King's Head Theate Coventry, June 2018)
Twitter: @nickcope6
Spotlight: https://www.spotlight.com/interactive/cv/9177-8948-1063